2021 Ford EcoSport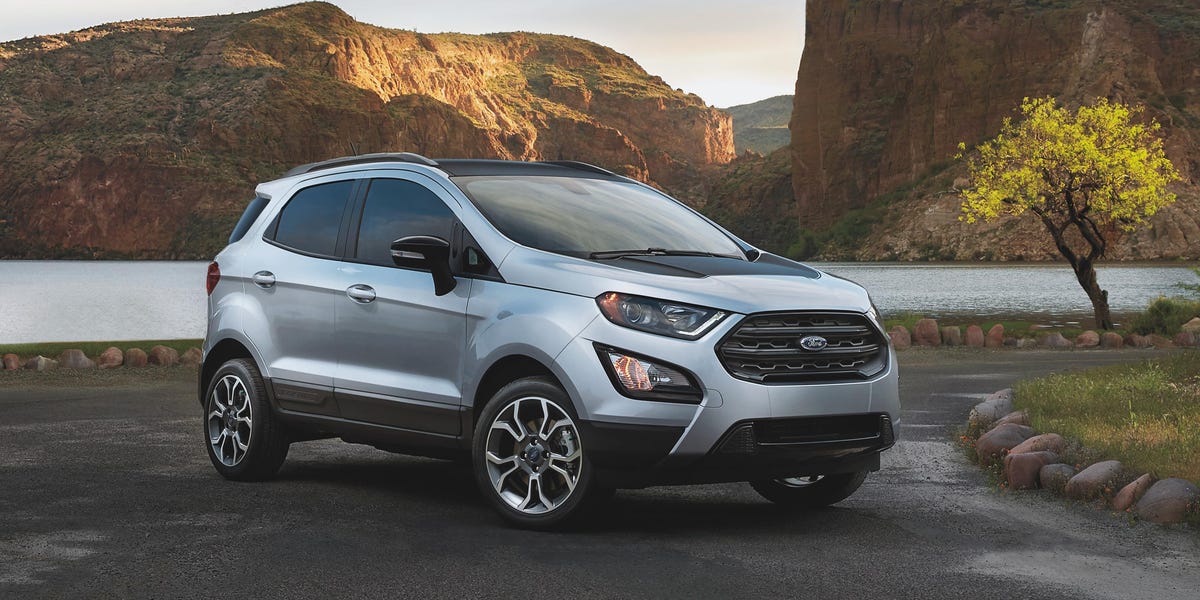 Overview
Automakers have been rapidly filling out their vehicle lineups with subcompact crossovers, many of them worth your money. A few, such as the 2021 Ford EcoSport, are not. The EcoSport, while offering the tall seating position many buyers are looking for, fails to provide much more than that. Its standard engine is an underpowered three-cylinder with sub-average fuel efficiency; a four-cylinder is optional. Interior space is limited and cheap materials can be found throughout the interior, even on the higher trim levels. Vehicles such as the Mazda CX-30, Hyundai Kona, or Kia Soul, with their more refined driving experiences, sportier looks, and better dressed cabins are superior options for buyers in this segment. And for those that need more space, look to the Nissan Kicks.
What's New for 2021?
Very little is new on the EcoSport for 2021, but it does get an updated appearance package, a standard power driver's seat on the top SES 4WD trim (oddly, it didn't have one before) , and techy faux-leather seat coverings in the Titanium model.
Pricing and Which One to Buy
S: $21,240
SE: $24,695
Titanium: $27,510
SES 4WD: $28,820
The EcoSport would be best had in SE trim, which upgrades it significantly from the stripped-down S trim. The SE gives you features such as heated front seats and a power-adjustable driver's seat, as well as automatic climate control, Ford's Sync 3 infotainment system with an 8.0-inch touchscreen, and a power moonroof. Upgrading to all-wheel drive costs $1500 on any of the trim levels—except SES 4WD, which comes with it standard. The SES also swaps out the standard three-cylinder engine for a more powerful four-cylinder. Nonetheless, given how similarly the two engines perform, we suggest sticking with front-wheel drive to save the added weight—unless you really need power sent to all four wheels.
Engine, Transmission, and Performance
Whether it has the standard 123-hp turbocharged three-cylinder or the optional 166-hp four-cylinder, the EcoSport is the opposite of quick. Both engines share a dutiful six-speed automatic transmission and—surprisingly—can tow more than most rivals. Having driven these powertrains, we've confirmed that straight-line acceleration is not their strong point. Still, both engines felt peppy leaving stoplights and at city speeds. The Ford can tow up to 2000 pounds when equipped with the four-cylinder engine. Even the three-cylinder version can handle as much as 1400 pounds. The EcoSport drives much better at slower speeds. The Ford felt almost punchy slipping through busy streets, but its vague steering and noisy ride diminished the experience. While its ride can't isolate the cabin from rough surfaces, the softly sprung suspension on our Titanium test vehicle effectively cushioned occupants from the harshness. Too bad the spongy shocks and top-heavy demeanor led to unruly body motions. These effects were amplified at higher speeds. The brake pedal on our front-drive Titanium model never felt firm, but it delivered consistent response.
Fuel Economy and Real-World MPG
Those who believe the "Eco" in EcoSport stands for economical will be disappointed. While neither of the available engines are inefficient, they do lag behind the competition in both their EPA estimates and real-world highway fuel economy. Surprisingly, the four-cylinder version performed better in our real-world highway test than the three-cylinder. We observed 30 mpg with the four-cylinder but only 28 with the three-cylinder. However, neither were as efficient as the Hyundai Kona or the Nissan Rogue Sport we tested.
Interior, Comfort, and Cargo
The EcoSport interior is functional instead of fashionable, which we can appreciate on the cheaper models. Too bad the cabin quality is underwhelming on top trims that cost nearly $30,000. Meanwhile, there's ample passenger space up front but not so much in back. Compared with the classy cabins of the Kona and the Kia Soul, the tiny Ford's interior disappoints. The leather-wrapped steering wheel felt rubbery, and most of the plastic surfaces felt hard and hollow. The SES model dresses up things with exclusive leather-and-cloth seats as well as copper-colored trim pieces. Despite its diminutive size, the EcoSport has competitive cargo space and storage. Most test results were average; the Ford proved itself a useful, albeit compact, travel companion with a few handy tricks. It held fewer carry-on suitcases than the Rogue Sport and the Honda HR-V but had higher capacity than the other similar competitors. The EcoSport has an assortment of interior storage spots, but none are very large. A sealable vent in the glovebox connects with the vehicle's air conditioner to create a climate-controlled compartment.
Infotainment and Connectivity
The EcoSport offers two levels of infotainment, with the top version based on Ford's user-friendly Sync 3 system. It uses an 8.0-inch touchscreen packed with features such as Apple CarPlay and Android Auto interfaces. Base models have a basic display with Bluetooth compatibility but no other smartphone integration.
Safety and Driver-Assistance Features
While the 2021 EcoSport hasn't been tested, the outgoing 2020 EcoSport received a four-star safety rating from the National Highway Traffic Safety Administration out of a possible five stars. While the Ford lacks advanced driver assists such as automated emergency braking and adaptive cruise control, the features that are available align with most competitors. Key features include:
Available blind-spot monitoring
Available rear cross-traffic alert
Available rear parking sensors
Warranty and Maintenance Coverage
The EcoSport's warranty coverage is strictly average; those who want the best protection available should consider either the Soul or the Kona.
Limited warranty covers 3 years or 36,000 miles
Powertrain warranty covers 5 years or 60,000 miles
No complimentary scheduled maintenance
More Features and Specs
Published at Wed, 22 Jul 2020 14:36:00 +0000