2021 Ram 1500 TRX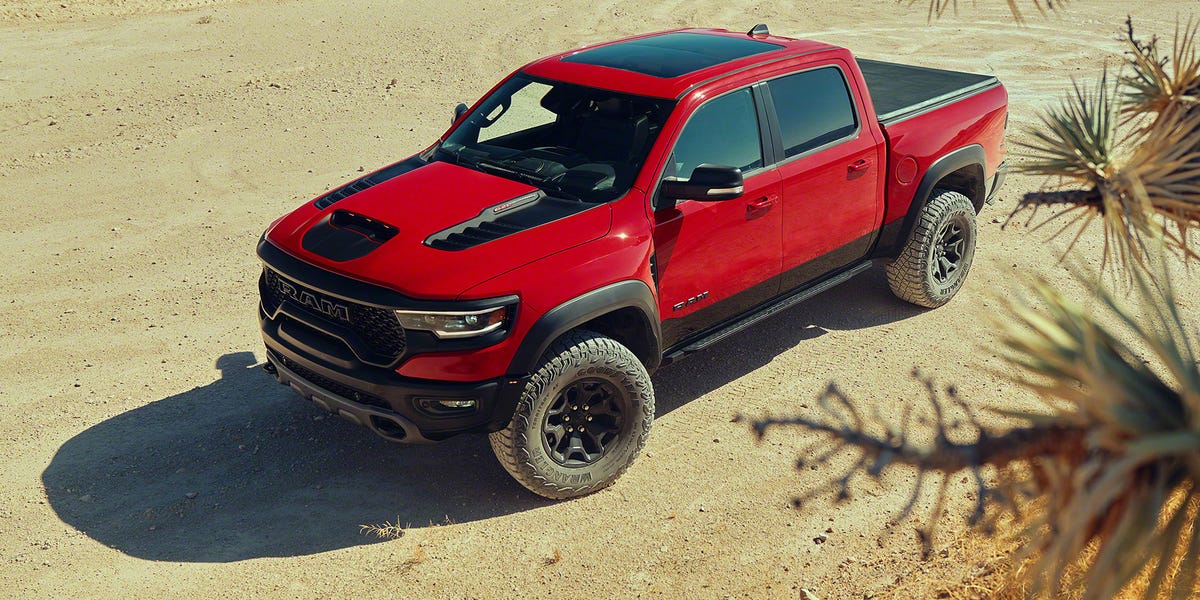 Overview
The battle for the best high-performance pickup truck just got interesting now that the 702-horsepower Ram 1500 TRX has entered the arena. The Hellcat-powered half-ton has the Ford F-150 Raptor squarely in its sights, but until its Blue Oval rival adds more power and steps up its interior game, the Ram might rule. Rivalry aside, the TRX is an impressive and intimidating machine. Its body is 8 inches wider than the regular Ram 1500, and its off-road capabilities have been transformed. This is thanks to a stronger frame, an even more sophisticated suspension, and myriad other enhanced characteristics. The 2021 Ram 1500 TRX is also loaded with a seriously luxurious interior and packed with all the latest technology. The only question left is whether the TRX can get more air over the jumps than the now seemingly obsolete Raptor.
What's New for 2021?
Ram has been teasing a high-powered rival to the F-150 Raptor since it debuted a badass concept truck back in 2016, but now the wait is over and the teasing has turned to reality. What's especially neat—besides the fact it packs a 700-plus-horsepower Hellcat motor—is that the production TRX looks pretty close to what was promised. With intimidating inflated bodywork, a bed-mounted spare-tire carrier, body-colored beadlock-capable wheels, and an abundance of other off-road goodies, the most radical Ram is, thankfully, fully realized.
Pricing and Which One to Buy
Base: $71,690
Launch Edition: $90,265
While we've been told how much the base TRX will cost as well as the sticker price of the limited-production Launch Edition, we don't know how much the TR1 and TR2 trim packages that upgrade the interior will be. Likewise, we only know that the TRX will have a healthy amount of options but not their price. Once that information is released, and Ram goes live with a configurator, we can assemble our ideal version.
Engine, Transmission, and Performance
Hiding between the TRX's bulging fenders and below its scooped hood is a supercharged 6.2-liter Hemi V-8. More popularly known as the Hellcat engine, this specific version produces 702 horsepower and 650 lb-ft of torque, which is sent to all four wheels through an eight-speed automatic transmission. The TRX has a claimed zero-to-60-mph time of 4.5 seconds and is said to complete the quarter-mile in 12.9 seconds at 108 mph. While those acceleration times are hugely impressive for any pickup—even a high-performance one—the Hellcat-powered Ram is actually meant to play in the mud, rocks, and sand. Along with a reinforced steel frame, it boasts a beefed-up suspension that's built to bend and bound with more than 13 inches of travel. It rolls on a set of massive 35-inch all-terrain tires mounted on 18-inch wheels that contribute to the truck's 11.8 inches of ground clearance. Ram says its half-ton Hellcat can ford up to 32 inches of water, too. The TRX also comes with enough underbody plating to protect a Brink's truck, Bilstein remote-reservoir dampers, an electronic-locking rear differential, and gigantic 15.0-inch front brakes.
Towing and Payload Capacity
Although the TRX can't tow as much as some Ram models, which are currently rated at up to 12,750 pounds, it can still pull a substantial amount. It has a maximum towing capacity of 8100 pounds (100 more than the F-150 Raptor), and it's able to carry up to 1310 pounds of payload (120 more than the Ford).
Fuel Economy and Real-World MPG
Neither the EPA nor Ram have released any information on fuel-economy ratings for the forthcoming TRX. Once its city and highway estimates are made public, and we have a chance to test the high-powered pickup truck on our 200-mile highway route, we can evaluate its real-world mpg.
Interior, Comfort, and Cargo
Ram has redefined expectations for truck interiors with its latest half-ton pickups, which deliver rich-looking materials and impeccable insulation from outside noise. That level of luxury and refinement looks to continue on the TRX, which is offered solely as a crew cab with the short cargo bed. Inside, the base model's cloth upholstery and standard equipment is based on the Ram 1500 Rebel. However, the optional TR1 and TR2 packages make the cabin look and feel significantly snazzier thanks to leather-covered surfaces and a mix of microsuede and carbon-fiber accents. The TRX's flat-bottom steering wheel features a pair of prominent paddle shifters, but there's also a floor shifter located on the center console. The TRX's top options include a digital rearview mirror, a head-up display, and heated and ventilated front seats.
Infotainment and Connectivity
Vertically mounted in the middle of the dashboard on every TRX is a 12.0-inch touchscreen infotainment system. The unit boasts Apple CarPlay, Android Auto, built-in navigation, and SiriusXM satellite radio. The display can be divided into separate menus so that multiple applications can be open at once, and it also features physical knobs and buttons on the screen's surrounding bezel for more intuitive controls. The truck can also be outfitted with a mighty 900-watt, 19-speaker Harman Kardon sound system.
Safety and Driver-Assistance Features
The 2021 TRX hasn't been crash tested by the National Highway Traffic Safety Administration (NHTSA) or the Insurance Institute for Highway Safety (IIHS). Ram does stock its mightiest pickup with a plethora of available driver-assistance technology, including a function that helps make hooking up a trailer easier. Key safety features include:
Available lane-departure warning and lane-keeping assist
Available blind-spot monitoring
Available adaptive cruise control
Warranty and Maintenance Coverage
Ram's limited and powertrain warranties align with all rivals except for Nissan, which covers those areas for longer periods: five years or 100,000 miles. However, Ram doesn't offer any complimentary maintenance like Chevy, GMC, and Toyota do.
Limited warranty covers three years or 36,000 miles
Powertrain warranty covers five years or 60,000 miles
No complimentary scheduled maintenance
Published at Mon, 17 Aug 2020 16:14:00 +0000