Exhaust Outlets : 02 Sensor Housings : Twin Turbo RB26
OEM R32/R33 turbocharger outlet pipe
These parts of the exhaust on a twin turbo RB26 connect the outlet of the turbo charger to the downpipe, or front pipe. Some terms are different, depending on what region you are from. Like calling a soda drink, a coke, a pop, soda, soft drink, etc. It all generally means the same thing, just regional. On the exhaust side, post turbo, the best exhaust is none. Larger is better, less restrictive is better. Less weight is better.
The R32 and R33 outlet pipes are cast, and the same other than the oxygen sensor threads/boss. The R32 uses a small sensor, the R33 a larger sensor. More information about the sensor differences – https://www.gtrusablog.com/2019/02/oxygen-sensors-r32-vs-r33-o2-sensors.html
https://www.gtrusablog.com/2017/12/nissan-skyline-oxygen-sensor-02-sensors.html
R33/R34 GT-R oxygen sensor on the left, R32 GT-R on the right You can see the Bosch sensor didn't come out nice.
It is possible to put an R32 02 sensor into an R33 outlet with an adapter, but the opposite would be a trick.
R34 turbo outlet pipe
The R34 outlet pipe is a stamped formed piece of metal. It is an interesting piece. It is about 1 lb lighter than the cast pieces, and also has a larger outlet flange diameter of 60mm vs 55 mm on the R32/R33. Depending on exactly how you look at it, because the wall of the tube is inside the flange, you don't get the full benefit of that 60 mm flange. Next onto aftermarket outlets.
This is a Mines outlet tube. Even lighter. This piece has been Swain coated 70 mm flange 65 mm inside
You can see on this outlet tube that the diameter of the flange is 70 mm, but because of the tubing wall, you only actually see about 65 mm of cross section. It is still larger than the OEM by about 10 mm.
This is a Mines outlet tube. Even lighter. This piece has been Swain coated
There are two different lengths of the turbo outlet pipes, so make sure you don't get them switched up.
This outlet has an R32 oxygen sensor adapter, and an EGT bung in it. This has also been Swain coated
On Nismo #500, we are running Tomei cast outlets. The Tomei cast outlets are 68 mm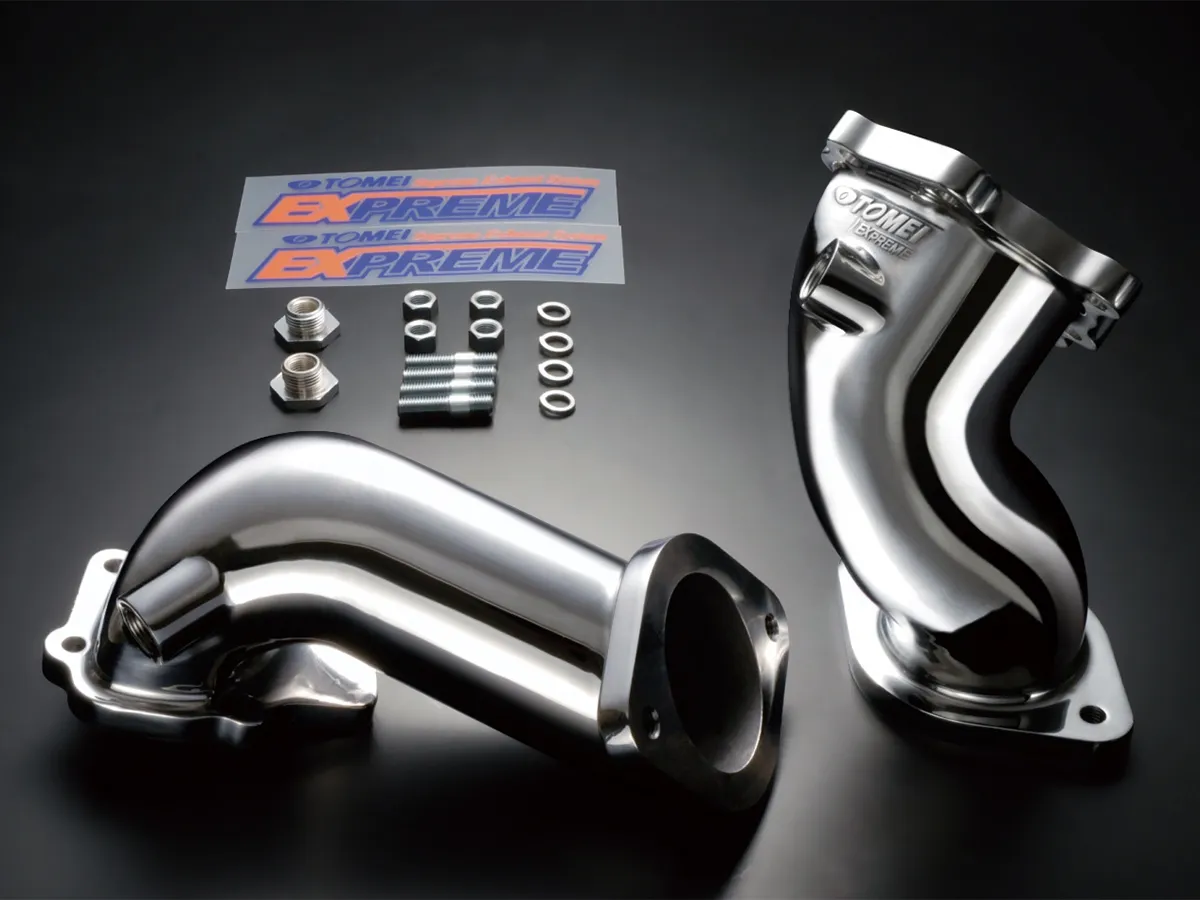 Tomei Exhaust outlet pipes for an RB26 – 68 mm
The largest ones we know about come from either HPI or Midori. The HPI are 76 mm, and the Midori are 76.3 mm.
Midori 76.3 mm outlet tubes
If you are putting aftermarket turbos on your car, you really want to replace the outlet tubes with something larger and if possible lighter. You also want to pay attention to the front turbo outlet as it just about sits on top of the rear turbo compressor inlet. There is a reason that the R34 Vspec II, got a NACA duct, to try and cool the rear turbo.
Buy USA Legal R32 and R33 Skylines at Importavehicle.com!
Index and Start Page
Published at Tue, 23 Jun 2020 23:55:00 +0000